Op 3 oktober 2023 verschijnt bij uitgeverij Simon & Schuster Patrick Stewart Making It So, A Memoir. Van is het autobiografische boek van de Engelse auteur Patrick Stewart is nog geen Nederlandse vertaling van het boek verkrijgbaar of aangekondigd.
Patrick Stewart Making It So Memoir
De Britse acteur Patrick Stewart is op 13 juli 1940 geboren in het stadje Mirfield, West-Yorkshire in Engeland. Hij is vooral bekend geworden door zijn iconische rol als captain Jean-Luc Picard in de science fiction tv-serie Star Trek: The Next Generation en in de speelfilms.
Hij is opgeleid als toneelacteur en speelde vanaf de jaren zestig onder andere rollen bij het vermaarde toneelgezelschap The Royal Shakespeare Company. Vanaf de tweede helft van de jaren zestig van de vorige eeuw speelde hij ook rollen in speelfilms en voor televisie. In de jaren 2000 begon hij ook met het inspreken van stemmen voor computergames en voice-overs voor documentaires en commercials.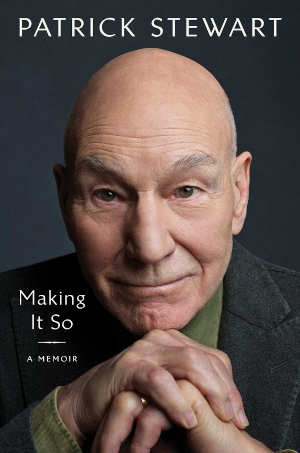 Making It So
A Memoir
Auteur: Patrick Stewart (Engeland)
Soort boek: memoir, autobiografie
Taal: Engels
Uitgever: Simon & Schuster, Gallery Books
Verschijnt: 3 oktober 2023
Omvang: 480 pagina's
Uitgave: gebonden boek / ebook
Prijs: € 36,00 / € 18,00
Flaptekst van de autobiografie van acteur Patrick Stewart
The long-awaited memoir from iconic, beloved actor and living legend Sir Patrick Stewart!
From his acclaimed stage triumphs to his legendary onscreen work in the Star Trek and X-Men franchises, Sir Patrick Stewart has captivated audiences around the world and across multiple generations with his indelible command of stage and screen. Now, he presents his long-awaited memoir, Making It So, a revealing portrait of an artist whose astonishing life—from his humble beginnings in Yorkshire, England, to the heights of Hollywood and worldwide acclaim—proves a story as exuberant, definitive, and enduring as the author himself.
Bijpassende boeken